A Godsend (2019 German Film Festival)
April 11, 2019 @ 7:00 pm

-

9:00 pm

CDT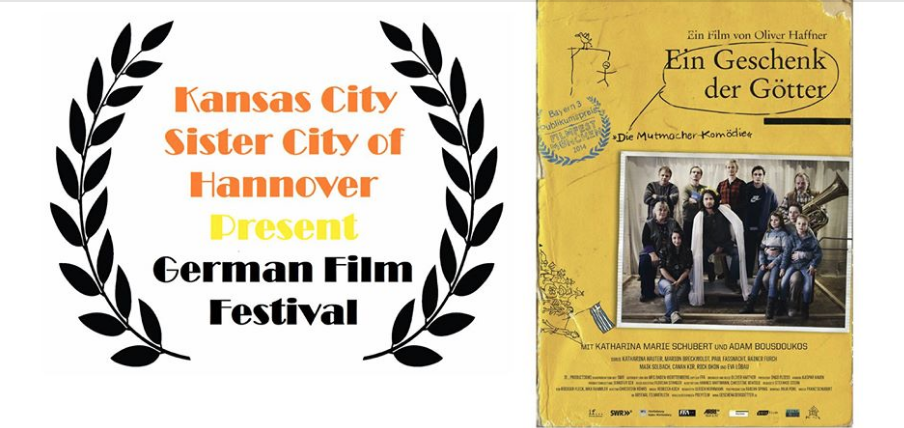 2019 German Film Festival
Featuring eight selected movies Presented at different KC locations
During the months of January, February, March, and April of 2019
A Godsend (Ein Geschenk der Götter)
Regie: Oliver Haffner, Farbe, 102 Min., 2012 – 2014
In German language with English subtitles. 90 min. – Rating: PG
Anna, an actress, unexpectedly loses her job at a small German town theatre. She can't expect much help from the local employment agency – but as it so happens, there is an administrator at the agency who, while not very militant, is enthusiastic about theatre. Anna takes on the job of teaching drama to eight long-term unemployed people. Initially, none of them are particularly enthusiastic about it, nor are they exalted about the drama "Antigone", which Anna wants to rehearse with them. But then the skeptical and difficult individuals manage to draw together and form a collective, after all, giving all of them renewed hope. A GODSEND is a tragicomedy, where the stage is the setting for a collective restoration of the self-respect lost by each of the individuals.
UMKC Student Theater
5100 Cherry, Kansas City, MO 64112
Thursday, April 11th, 2019
Metered parking garage 50th & Oak on the 5th level, $1.25/hr.; Saturday free parking
Doors open at 7:00 pm – Program starts at 7:30 pm
Admission: FREE – DONATIONS are appreciated!